Your Best Guide to New Milford Mold Damage Remediation
2/28/2019 (Permalink)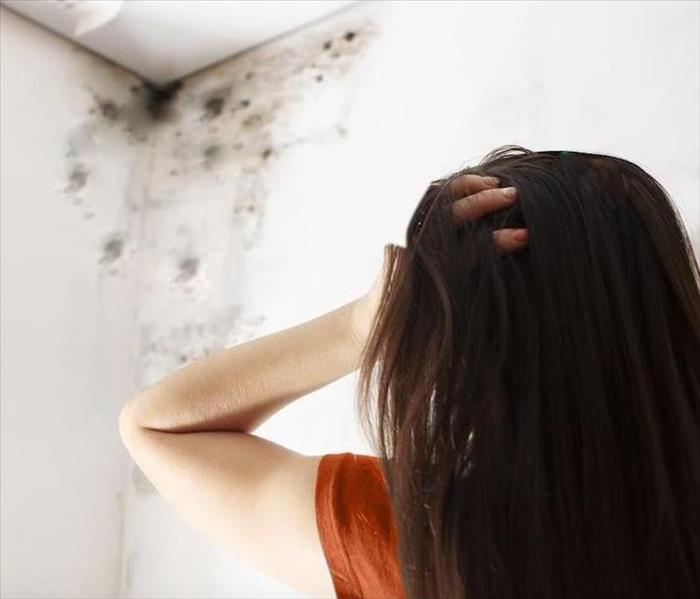 Sometimes mold is not visible to the eye but you can smell the musty odor. Contact our team to investigate the situation and find the mold.
Mold Damage Detection and Restoration for Your New Milford Home
Most homeowners in New Milford understand that mold can cause health effects for them and their families, but not all of them know how to detect mold in their homes. There are several things to look for that can indicate you have an issue, so learning what they are is essential in keeping your family in a safe living environment.
If you suspect you have mold and mold damage in your New Milford home, you need to call in an expert remediation specialist, such as SERVPRO. We have the tools that can detect hidden moisture problems in your home, which can also indicate hidden mold growth, as the mold does not need long to grow in the right conditions.
One of the easiest ways to detect mold in your home is if you smell any musty or damp odors. If you have smelled mold, it is not something to spray some air freshener at and hope it's okay. You have a mold infestation, even if hidden in your walls somewhere, that needs to be handled right away. SERVPRO techs use special moisture sensors to detect where the moisture is residing so that we can stop the issue and clean up the mold that has resulted from it.
Previous or current water leaks are many times an indicator that you have mold present. Whether it's a leak in the roof or a leaky pipe, they can produce moisture in overlooked places. We can find where the issue is here as well and proceed to dry and clean the affected area.
Water intrusion can also be an issue. Whether a pipe breaks or your sewer line backs up, each problem can lead to mold if it is not adequately cleaned. Many times, the issue cannot be spotted right away, which leads to the likelihood of mold. We find the affected area and seal it off with plastic sheeting and use negative air pressure so we can work without spreading the infestation to parts of your home that are clean.
If the problem is severe, we wear PPE, or personal protective equipment, to protect ourselves from breathing in the mold spores. We use antimicrobial cleaning products to remove the mold colonies, as just using household cleaners yourself is not good enough to properly get rid of the mold.
If you see any mold growth, you know you have a problem, although you may not know just how big the infestation is yet. Many times, you cannot see all of it right away, so we make sure to find it all with our tools and expertise.
SERVPRO of Teaneck/Englewood is experienced in finding mold and make sure to thoroughly clean your home in Tenafly, Teaneck, or Englewood Cliffs when there is an issue of mold present. Give us a call anytime at (201) 266-0482 if you suspect you have a problem so we can find it and make your home clean and safe once more.
Click here for more about New Milford.